"Are ADT Security Systems Right for You?"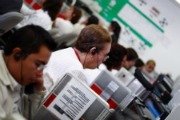 ADT Security Systems is what HomeSecurityReviewer.com would classify as an all-in-one security company.
They can help develop a security strategy for your house. They have all the security hardware and devices and will install your system. They will also monitor your residence.
ADT Facts
ADT is one of the biggest security companies in the U.S. It is owned by a conglomerate called Tyco Corporate.
Tyco has various companies in the security, fire protection and detection, valves and controls, and other industrial products. Tyco is a huge company with above $17 billion in sales and over 100,000 employees in about 60 countries.
ADT has a big commercial business. For example, they develop solutions to help retailers to reduce theft and better protect their products. They also provide video surveillance for some of the biggest retailers including the Home Depot.
ADT also has one of the biggest residential and home security businesses. Their size allows them to constantly innovate with technology. They have the expertise to lead the industry in products that will best aid your family in security.
Who are you dealing with when you deal with ADT Security Systems?
ADT has an authorized dealer program to work with their customers. So, you will be working with usually a local home security company that is a dealer for ADT. As an authorized dealer, the local security company maintains the management and ownership of the business. But they also enjoy the benefits and resources of a big company like ADT.
These dealers get paid by the customer when they install a system at a home. ADT security systems then purchases the account, and the dealer then receives account generation fees when monitoring starts.
So the dealers are quite incentivized to sell you ADT systems.
There have been negative reviews of ADT salespeople on the web. Some have not been clear about the contract terms. They have been accused of not explaining the automatic renewal period. Of course, this is not all salespeople and dealers.
ADT Reviews
HomeSecurityReviewer.com will soon allow you to see customer reviews of ADT.
It will be helpful to see other opinions in determining if ADT is right for you and your family.
Experiences will vary, mainly because ADT uses dealers in working with customers. A good and trustworthy dealer will create a positive experience about ADT for the buyer. A bad dealer will do exactly the opposite.
Also, be aware that many of these reviews for ADT will be negative. ADT is a huge national company with many different dealers working with customers. There is bound to be negative information. Learn about the concerns of certain ADT customers, but use your best judgment when considering any type of security company.