"Before you go forward with DIY Home Security Systems (Do It Yourself), You Should Read the Following Information!"

There has been a trend towards DIY Home Security Systems. But you should go through a number of questions and decisions in considering such a system for yourself and your family.

The two main questions that you should have are: Will your family be safer if you install the home security system yourself? Also, can you perform the installation correctly?
What are Your Needs?
Everybody is in a different situation regarding their security needs. You need to determine your own needs to determine the type of systems that you should get.
For example, if you are 6-5 and 300 pounds and live on your own with no valuables in your residence, your security needs and requirements should be different from that of a family living in an elaborate mansion with million-dollar artifacts.
Are you looking to stop burglars (thieves) or attackers? Determine if your goals are to Deter, Detect, Delay, or Defend.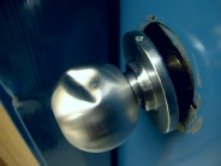 Put yourself in the mind of a burglar potentially trying to enter your house. Determining DIY Home Security Systems starts with this initial step. Preventative measures outside on the perimeter of the property would help deter the bad guys.
Appropriate signage or motion detector lights outside would be examples of outdoor security. Doors and windows would be possible areas for criminals to enter and where security would be appropriate.
When you know your requirements, you will then need to determine if you want a wired or wireless system. They both have advantages and disadvantages.
Wired Security Systems
With a hardwire type of system, all of the components (door and window contacts, motion detector, etc.) are connected directly to the central control panel.
This reduces or eliminates the chance of false alarms. If you are building a new house, you should consider a hardwire system.
Also, in a hardwire system the control panel is separate from the siren on the alarm keypad.
This is helpful because it makes it more difficult for a criminal to find and deacivate the control panel and system.
The hardwire system is more difficult to install. Some of the tools that you could be using are listed below. If the use of these tools does not freak you out, then DIY Home Security Systems using wires might be for you.
Stud Finder
Screwdrivers of all sizes
Crimper,Stripper, etc.
Coathanger (to get wires out)
Staple Gun
Wire Nuts
Wire Solder
Sheetrock anchors and screws
Electrical Tape
Digital Voltmeter
Patience to deal with the unexpected!
Wireless Security Systems
Wireless is a viable option for many people's security needs.
It is much easier to install than hardwire systems. No need to deal with wires and making holes in the wall. Wireless systems do not take that long to install.
Make sure that you choose a system that keeps the control panel separate and quiet so a criminal has more difficulty in deactivating it.
Home Alarm Monitoring
When you decide on your installation, you will have the option of the type of monitoring. You can either have the alarm trip a central alarm station or call your cell phone.
Everyone has their own situations, but HomeSecurityReviewer.com advises having a central monitoring company to monitor your system. You can find companies that charge around $10 monthly for it. You can find more information on this topic on another page.
High-Tech Advances and Home Automation
DIY Home Security Systems have made substantial high tech advances in the past few years. You can now choose apps on your IPhone to check and control certain systems. If you have a surveillance system, you can watch on your mobile devices.
With technological advances in home automation, you now have the ability to not only take care of your security needs but also turn on TV's and ovens through central devices.
In Summary
So depending on your situation and security needs, there are a number of options for you to consider regarding DIY Home Security Systems. The good news is that there are solutions to fit the needs of all who all looking for security.
The hard work is determining the strategy and tactics for your home security. If you are not confident in your abilities to install a system, you can hire local pros to do the work.
Related Content: