"How can Bookcase with Doors Hide your Family and Valuables?"

Yes, a bookcase with doors, or a hidden door, can be part of your home security strategy. A bookcase with doors is used to conceal an entryway to another secret room or passageway.

Hidden doors can take many different shapes. They can be hidden in walls, concealed by a wine rack or kitchen cabinets. But a very popular option is to use a bookcase to hide the door.
Purpose of Bookcase with doors
Hidden doors can have a fun aspect to them. If you have friends over, you can impress them with the door and amaze them with your uniqueness and creativity.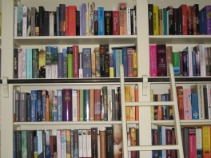 Hidden doors also have a very functional aspect to them. They could be a part of your home security strategy. The door can lead to a safe room to better protect your family. Or the door can lead to a vault to protect your valuables.
Hidden Bookcase Door Options
Functional Options
A very popular option is to use a hidden bookcase within an existing entryway. You should try to make sure that the installation hides the seams and hinges as much as possible.
A hidden door is not that effective if it is not really 'hidden'.
Also, see if you can install a hidden door that does not break down after moderate use. Because of the nature of hidden doors, the hinges that are hidden do have a higher chance of breaking down.
Some other things that you will need to consider are which way you would like to hidden door to swing, inward or outward. Also, if you have a bookcase with deep shelves, you might want to consider a combination slide in and slide out contraption that allows the bookcase to open in a tight space.
You can also choose to automatically open and close the bookcase. There are options out there to hide the contraption that opens and closes the bookcase.
A cheaper alternative is to manually use hidden slide bolts to open and close the door.
Bookcase Options
As far as the bookcase itself, you have many different options. There are several companies that have stock hidden bookcases available or they will customize for you as well.
You can choose to have double sided bookcases. That way people from either side would not know that there is a functional area on the other side. You can also choose between various shapes of bookcases such as rectangular or oval.
DIY Hidden Bookcase Door?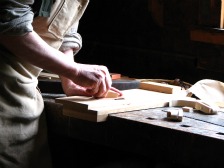 You can also choose to build your own hidden bookcase with doors. You can install it in an entryway and it can be done for a few hundred dollars by buying materials from your local supply store.
It is not as simple as making a regular bookcase because there are other factors to consider. First of all, the door needs to be masked by the bookcase. You need to do a good job in hiding any visible gaps and hinges.
Also, you need to consider the weight of the bookcase and the function of the door. The load of the door needs to be factored in its design.