"Why Hidden Door Hardware and Hinges is so Important?"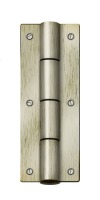 Hidden door hardware is very important to the effectiveness of your secret room or passageway. Regarding home security, you want to make sure that your hidden room is a secret.
You should only let a few friends or family know about the room. You should also make sure that your hidden door truly blends in with the rest of the room. The hardware and hinges of the door is an important piece in ensuring that door is truly hidden and that it functions properly.
Different types of Hidden Lock Hardware
There are different categories of hidden lock hardware that you can use for your doors.
Touch Latch
The touch latch works by pushing on the outside of the door. The door opens automatically. The other hardware like door knobs and locks are not needed with this contraption. This type of latch cannot be seen from the outside.
You would use this type of latch when you are confident that no one would have any idea that there could be a hidden door anywhere in the wall.
Concealed Hinges
You can also install concealed hinges that are completely hidden when the door is closed. These doors can open up to 180 degrees.
You can buy these hinges made from different types of materials. There are concealed hinges that are made of heavy-plated steel, stainless steel, and polyamide.
Closer Hinge
There are closer hinges that are invisible from either side of the door when it is closed. They are spring closers that are meant to used in conjunction with the other invisible hinges.
Make sure that you know the door weight. Then install the appropriate number of spring loaded hinges based on the maximum bearing weight of each hinge.
Hardware Systems
There are different hidden door hardware that can be used to open and close hidden doors. No matter in which way you design your door, you need to make sure that you use the best quality hardware available.
Substandard hardware can deteriorate over time. This can lessen the effectiveness of the hidden door. Hidden door mechanisms have very tight tolerances to ensure that they work properly. These high tolerances are also needed to make sure that the seams of the door are truly hidden.
Sliding on rails
There are hidden doors that are designed to open and close by sliding on rails. You need to make sure that you have the best hardware and also properly maintain the system.
When sliding on rails, tight tolerances are tough to achieve. Over time, the door might lose its 'hidden' features and may get noisy when opening or closing the door.