Kidde Smoke Detectors - Types and Alarm Products
About Kidde
You will find Kidde Smoke Detectors in many different locations. Kidde is a company that manufactures and sells fire protection type of products. Within this fire safety market, Kidde is the largest company in the world.
Kidde is a part of UTC Fire and Security. UTC fire and security sells various categories of products for both industrial/commercial and residential customers. These products include fire extinguishers, smoke alarms, carbon monoxide detectors, and other fire safety products in the industry/commercial area.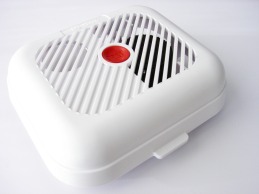 UTC Fire and Security is a subsidiary of United Technologies. United Technologies is a huge conglomerate with annual sales of over $50 billion.
So the question that you might ask is how does the size and scope of Kidde pertain to their products? You can be rest assured that Kidde will offer a wide range of fire safety products. They have the budget to research new technologies and to develop new products. You can also feel safe in knowing that Kidde Smoke Detectors are high-quality products.
Types of Smoke Alarms
Kidde has a large assortment of smoke alarms and groups them into three main categories. The categories are battery-powered, wire-in, and wireless alarms.
Battery Powered Smoke Alarms
With battery-powered smoke alarms, you do not have to worry about power outages causing the alarm to turn off. All of the Kidde models come with test buttons and indicators when batteries are about to run down.
Kidde currently has about ten different models of battery-powered smoke alarms. They have both ionization and photoelectric sensor models. One of the models is a dual sensor with both ionization and photoelectric detection capabilities.
Wire-In Powered Smoke Alarms
Kidde also offers a full complement of 120V AC Wire-in models. They have interconnect capabilities. If one alarm picks up smoke, all the alarms that are connected with that alarm will sound off.
This is very helpful with larger houses where such an interconnected system will help alert people in the house more quickly.
Most of the detectors come with a battery back-up. The different types of alarms have both photoelectric and ionized detectors.
Kidde also offers a quick converter if you are connecting Kidde smoke detectors with a different brands of detector. This way Kidde can be part of a connected system without rewiring.
Wireless Smoke Alarm System
Kidde also has the newest generation of smoke detection technology. Wireless smoke alarms are also interconnected detectors. So, when one alarm detects smoke, all the alarms sound off.
The main advantage of wireless systems is that you do not have to fuss with the wires. The wireless installation is much easier than a wired one and much more cost effective.
Where to Buy
There are a few Kidde smoke detectors that you can buy off of Kidde's website. But you can find Kidde products at many retailers.
These retailers include home improvement retailers such as Home Depot , True Value, or Lowe's. You can also find them at mass supercenters and club stores such as Walmart, Meijers, Sam's Club, and BJ's Wholesale. Drug stores include CVS and Walgreens. There are a few other retailers where you can find Kidde products, as well.
Most places that sell smoke detectors will have Kidde products.