About Liberty Gun Safes - Types of Safes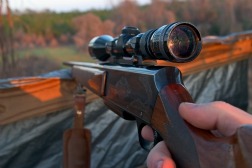 Liberty Gun Safes are branded as a Fatboy Safe. Liberty is the #1 seller of full-size residential safes in the U.S. Liberty has three main brands: Liberty, National Security, and Centurion.
They currently sell close to 105,000 gun safes a year. They use a powder coat paint system which is a very efficient and clean system.
Liberty Warranty
Liberty has a great warranty on their safes. If your safe gets damaged in a fire or in a burglarly, it will be replaced for free. You can be assured that you only need to pay for your safe once.
There are certain safes where the warranty does not apply. If a Liberty safe was built before January 1st, 2006, then you would need to go by the existing warranties on those products. Also, the entry level Cenutrion Model and commercial models are not covered by the life-term warranties.
Types of Gun safes
Liberty has two types of gun safes; the Fatboy Jr. and the Fatboy safes.
Fatboy Jr.
The Fatboy Jr. holds up to 48 long guns and weighs 705 lbs. The safe has a black exterior with a grey cloth interior. You can choose between a mechanical lock or a low-profile electronic lock.
Accessories that You Can Choose to Buy as Add-Ons
Under Shelf Jewelry Drawer
Oak Pistol racks - Helps protect finishes of guns.
Sticker Reading Danger - black powder enclosed - Deters criminals from trying to pry open the safe because they do not want to get hurt.
Dry Humidifier - Keeps humidity levels inside the safe at an appropriate level for your guns and valuables.
Media Cooler - Better protects electronic media like disks and CD's.
Anchoring Kit - Bolts anchor safe to cement or wood. You want to delay criminals from taking the whole safe from your residence as much as possible.
Electrical Outlet
Dessicant - Removes unwanted moisture from your safe to help protect your valuables.
Depending on how you purchase the product (delivery and installation), you can get a Fatboy Jr. for a beginning price of $1,400.
Fatboy Liberty Gun Safes
The Fatboy can hold up to 64 large guns and weighs 880 lbs. The Fatboy comes with a grey marble exterior and grey fabric interior. You can choose between a mechanical lock and an electrical lock.
You get the same choice of accessories as the Fatboy Jr. There are additional accessories that are already included in your Fatboy purchase. These include:
An interior accessory door panel
2 LED Light Kits
Electronic Outlet Kit
The basic standard price for a Fatboy is about $2,249.